"Well? Are we going to stand here all day or what?"
Elizabeth tried for the sixth time to ring the doorbell and once again froze. Could it hurt much to ask for just a few more seconds?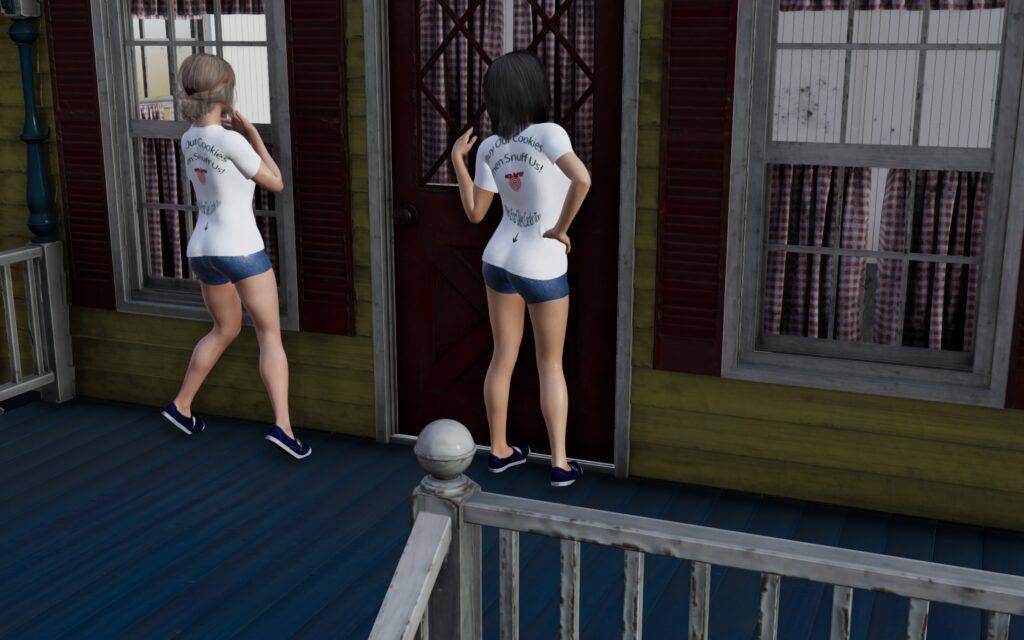 Katie rolled her eyes and shoved Elizabeth aside. "I just want to get this over. Okay?"
"Wait," she tried to grab Katie's arm as she reached for the doorbell, "I need another minute."
Ding-dong!
It was too late. As if to seal their doom, Katie pressed the button two more times.
"You suck," Elizabeth grumbled as the door opened. A muscled middle-aged man with gray hair and mustache towered over them, with a young Asian woman standing beside him.
"It's about time! Me and Scotty wondered if we'd ever get our cookies," the woman said.
"The Snuff Scouts are at your service!" Katie said.
"Let's get in and take care of business so we can get to the good part," Scotty growled.
Katie and Elizabeth followed the couple to the kitchen. Scotty pulled out a credit card.
"Which one of you girls has the phone?"
"I… I do," Elizabeth creaked and took the card. She processed the transaction for two boxes of cookies and set the phone to record by the sink. The girls handed him their cookies.
"So, how are we doing this?"
The woman grabbed a long silver dagger off the wall and handed it to Scotty.
"Who wants to go first?"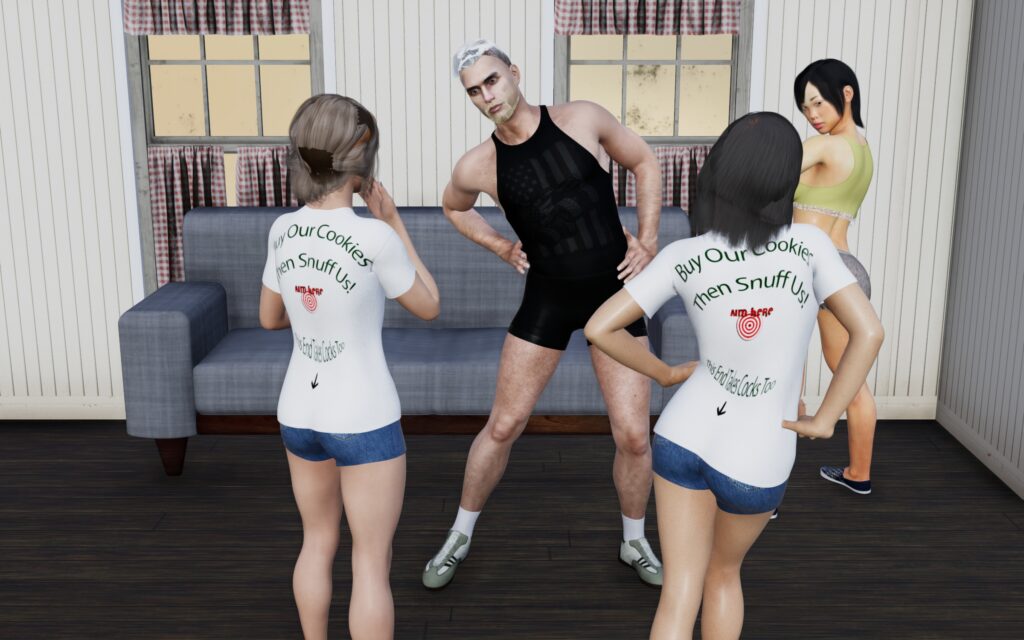 "She's the one in a hurry," Elizabeth shoved Katie. "I wouldn't mind a few more minutes."
"Yeah, I guess." Katie shrugged. "Just get it over with."
Scotty nodded and thrust the blade into Katie's right breast, driving it through her back. Scotty held the blade as she wheezed and thrashed. Torrents of blood dyed her shirt a bright crimson. Piss seeped through her shorts and ran down her legs, Scotty pulled out. Katie dropped to the floor, coughed a few globs of blood and went still.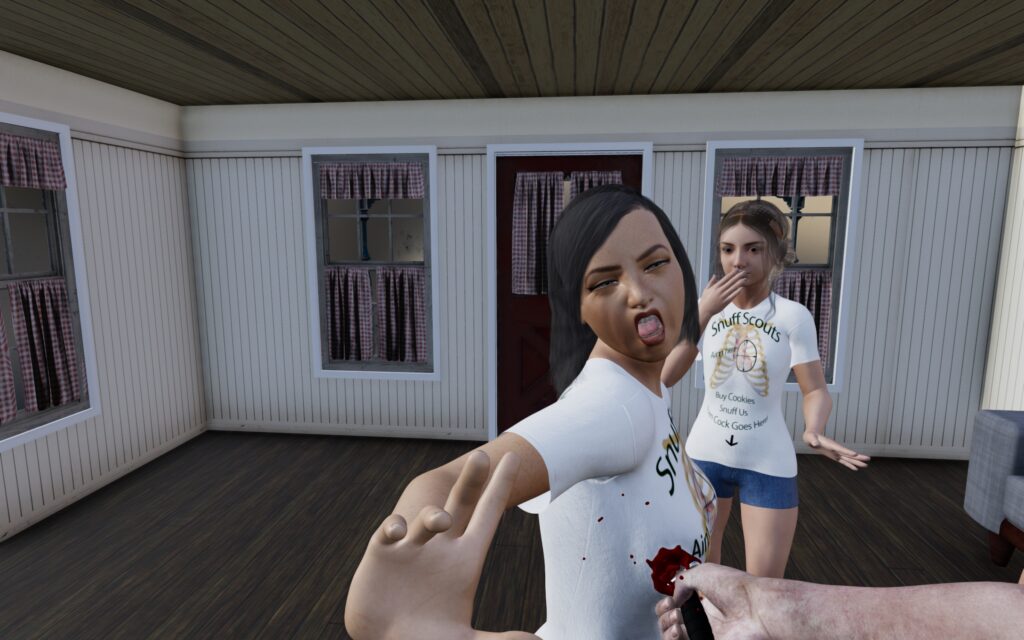 "The ball's in your court."
Elizabeth looked at Katie and the blood gushing out of a crevice in her back."Uhh, and what does that even entail?"
The woman started undressing Elizabeth.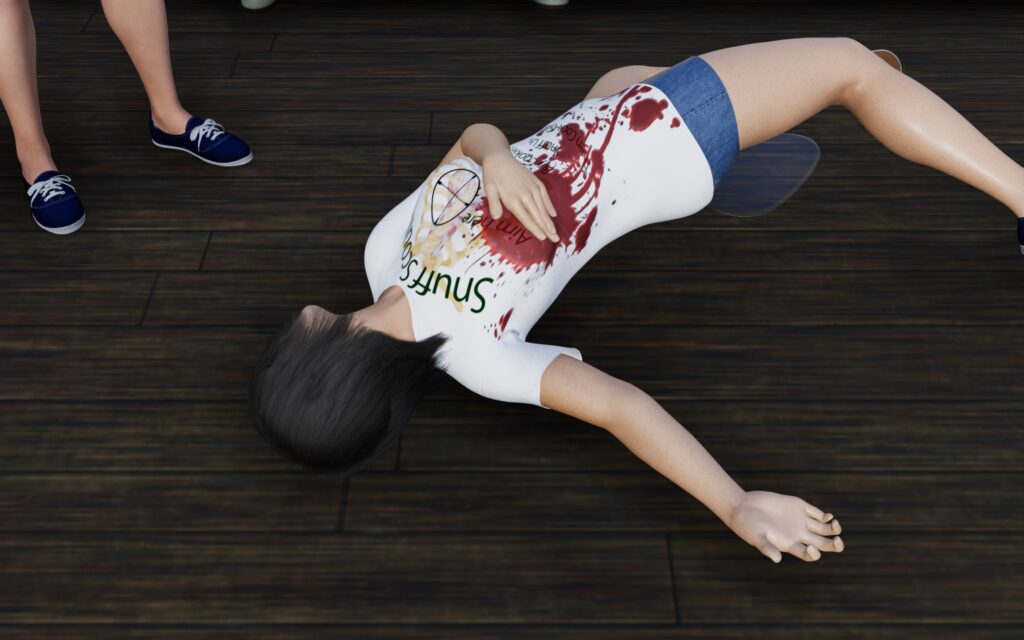 "You can decide if I kill you right now, or if you masturbate while we fuck your friend's body."
"Well, I…." How could she masturbate to this? "I guess you should just kill me. I'm ready."
"Your choice." He grabbed her by the scruff of her hair and drove the blade through the bottom of her chin.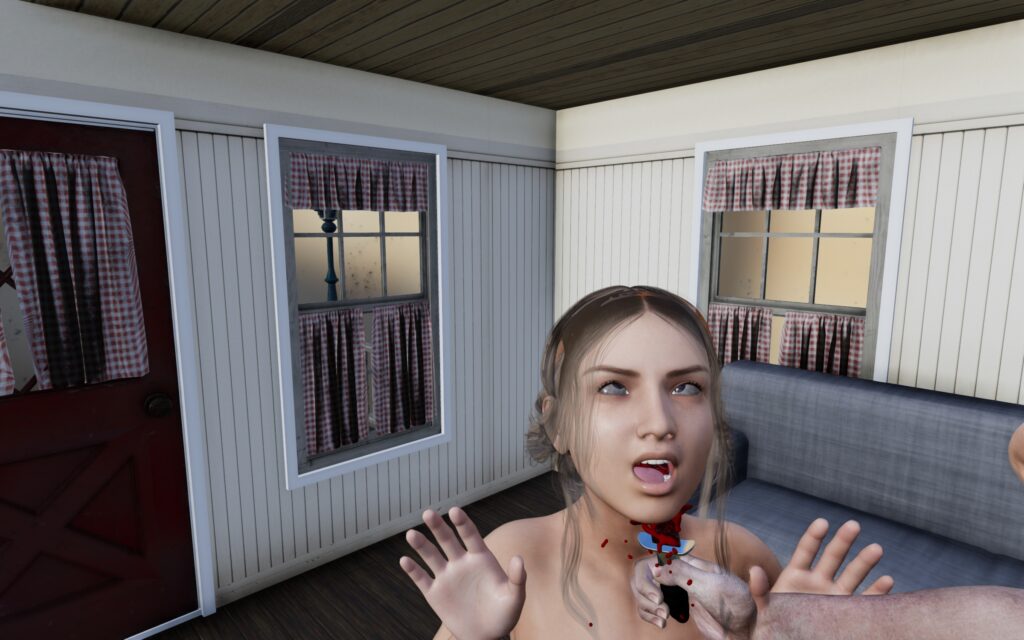 The blonde slumped over and pissed her shorts. Scotty pulled her off the blade and tossed it aside as her body hit the floor.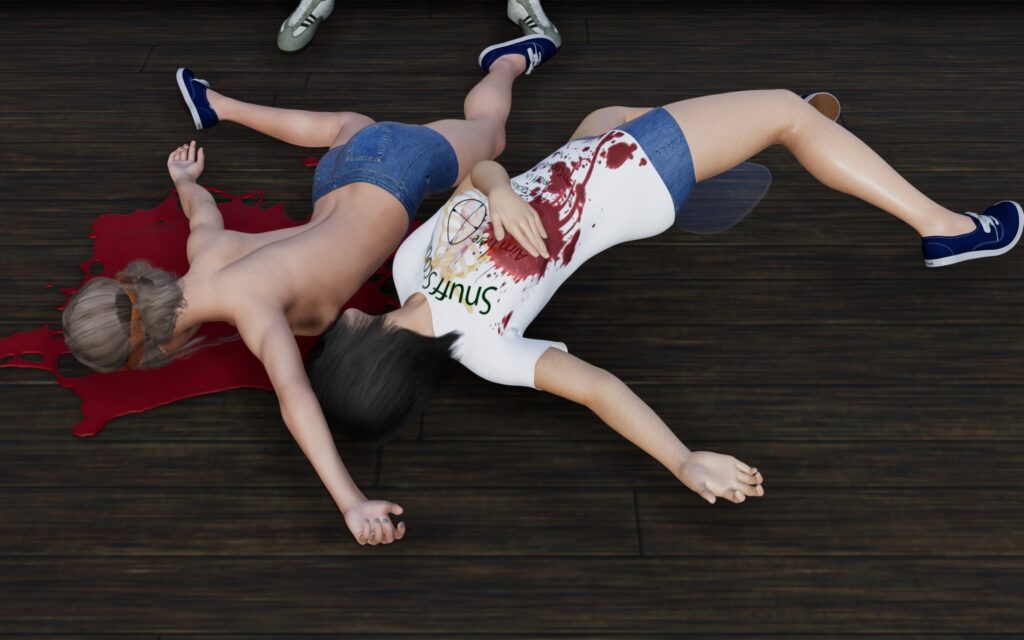 Tammy grabbed her body and started removing her uniform. Scotty mounted the brunette and slid his cock into her pussy. Before his girlfriend finished removing the blonde's panties, Scotty climaxed and filled the brunette's womb until it overflowed.
"Lunch time!" Tammy licked her chops as Scotty pulled out.
Scotty grabbed the blonde and slipped his cock into her mouth, sliding back and forth. Tammy leaned between the brunette's thighs and began licking Scotty's cum out of her pussy with loud wet slurps.
Scotty came again, growling like a bear as he filled the blonde's throat and mouth. He pulled out and began stroking his cock as ropes of cum spilled over her face and tits.
"Desert," he said with a chuckle.
Tammy pulled herself over and started licking the cum off the blonde's face. Scotty slid his face between the blonde's thighs and slipped his tongue into her pussy. Tammy lifted her skirt and started rubbing her pussy. With the blonde's face cleaned, she locked lips and deep kissed her.
Scotty crawled over Tammy and slid his cock into her pussy, Tammy's pussy clenched minutes later, squeezing Scotty's dick until climaxed once again. After leaving the first squirt in his girlfriend he pulled out, slipping into the blonde's pussy and filling her womb.
Scotty slouched back on the floor. "I'm glad you spoke up about buying two boxes this year."
"Mmhmm," Tammy groaned with a thumb up as she wrapped her lips around the blonde's nipple.
"Wake me up when you're done." He laid his head on the brunette's stomach and dozed off.